Cannes Film festival 2019
Just like Oscars are considered to be the most prestigious award globally, the same way, Cannes film festival 2019 is worldly acclaimed film festival where all new films from every genre are screened from around the world. It's the time of the year when 72ndCannes Film Festival will begin (14th May to 25th May), and all media and entertainment fraternity are gearing up for the same.
Before we move on to what all this year's Cannes is all about, the film and Jury members, let us have some light on the history of Cannes. Read more
https://www.thecut.com/2019/05/cannes-film-festival-red-carpet-best-outfits-2019.html
History of Festival de Cannes
The Selection committee of 2019
The General Delegate, Thierry Fremaux, and the Film Department director, Christian Jeune has appointed eight members in their organizing team namely, Paul Grandsard, Stephanie lamome, Virginie Apiou, Laurent Jacob, Lucien Logette, Eric Libiot, Marie sauvion, and Guillemette odicino.
The Jury members of Cannes 2019
Every year before the film festival, the board of directors jointly appoints the Jury Members who decide which films would receive the awards.
Jury Du Festival at Cannes
The Competiton section Jury members include:-
• Alejandro Gonzalez Inarritu s the President, who is a Mexican Film director.
Other Jury members:
• Elle Fanning, an American actress (youngest Jury member)
• Maimouna N'Diaye, Actor, Director from Burkina Faso)
• Alice Rohrwacher, Italian Director
• Enki Bilal, Film director
• Robin Campillo, Film Director
• Yorgos Lanthimos, Film Director
Jury du Court Métrage
This Jury is for Short Films screening in the competition.
• President is a French Director, Claire Denis
Other Jury Members
• Stacy Martin, Actor
• Eran Kolirin, Director
• Panos H. Koutras, Director
• Cãtãlin Mitulescu, Director
Un Certain Regard Jury
The Jury members select from the Un Certain Regard section of the competition.
• President, Nadine Labaki is a Lebanese Actor and Director
Jury Members
• Marina Foïs, French actor
• Nurhan Sekerci-Porst, a German producer
• Lisandro Alonso, Director from Argentina
• Lukas Dhont, Director from Belgium
Caméra d'Or Jury
This section presents awards to the first-time director in the official selection, along with the International Critics' Week, and Directors' Fortnight sections.
• Cambodian Director, Rithy Panh is appointed as President
Other Jury Members
• Alice Diop, French Director
• Nicolas Naegele, French Director
• Sandrine Marques, Author and Film Critic from France
• Benoit Delhomme, Cinematographer from France
Indian celebs at Cannes 2019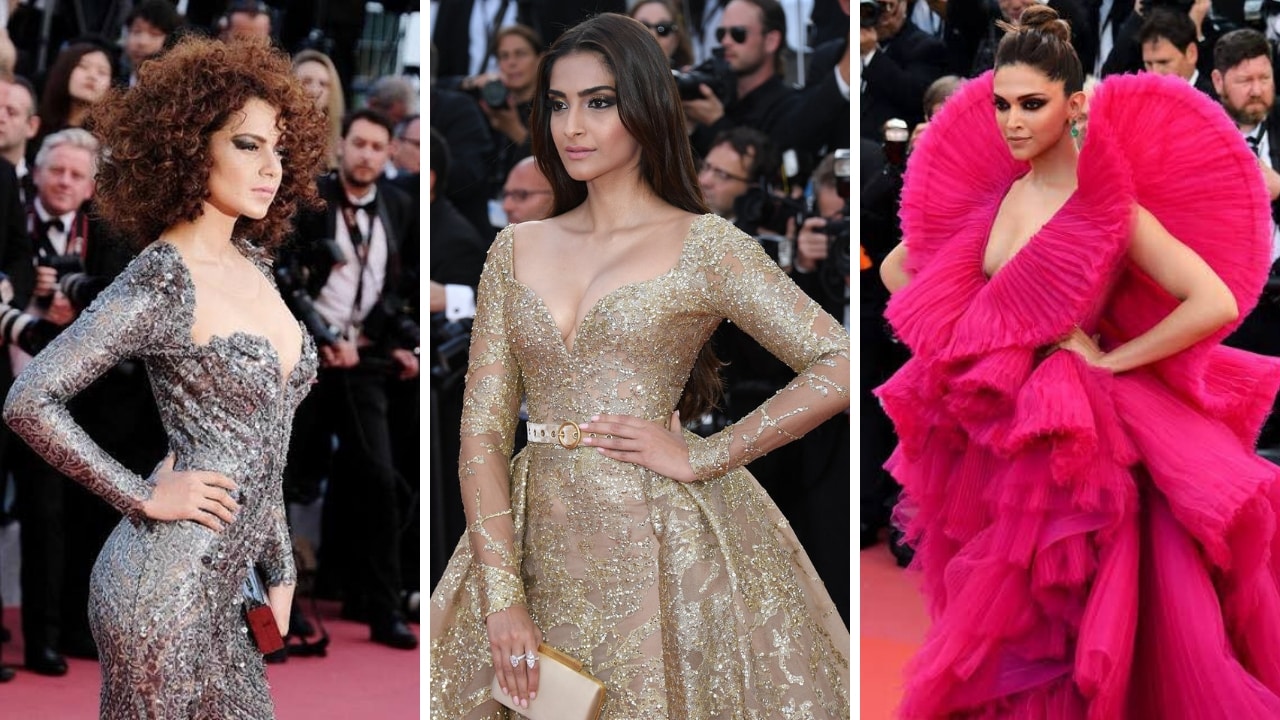 There are several Indians who walk the Red carpet at Cannes every year. Although every year there is a new face which makes our country proud at Cannes. This year its Indian Tv actress, Hina Khan is known for her roles in Yeh Rishta Kya Kehlata Hai and Kasauti Zindagi Ki 2 and Bollywood actress Diana Panty. Quite Interesting it is that Hina Khans' film, Lines is the only Indian film to be screened this year at Cannes.
Which Indian Celebs are walking the red carpet of Cannes and when?
• A global icon, Priyanka Chopra Jonas, walked the red carpet on the first day itself, May 14th.
• The most beautiful, Aishwarya Rai Bachchan is said to be walking the Cannes red carpet on 19th May.
• Deepika Padukone stunned us with her Barbie look in Met Gala, and now she is all set to walk the Cannes carpet on 16th May.
• The fashion Icon of India, Sonam Kapoor Ahuja is said to walk the red carpet on 20th and 21st May.
• The 2018 debutant, Kangana Ranaut will walk the red carpet on 16th,17th and 18th May stating her clothes will have drama on the carpet.
• Hina Khan, the debutant this year will walk the carpet on May 17th and the same day her debut film, Lines will also be screened.
• Dianna Panty is all set to make her debut at Cannes this year.
• Apart from all these, Mallika Sherawat, A R Rehman, and Huma Qureshi will also be attending the film festival this year.
Fashion at Cannes 2019
All the celebrities up their game and do immense brainstorming with their stylists before zeroing onto their Cannes look. This year High Slits and Capes are ruling the fashion industry at Cannes.
Exciting movies to be screened this year
• The Dead Don't Die, A zombie film
• Once Upon a Time….in Hollywood, a commercial family film with a tinge of dark comedy
• Lux Aeterna, a cinematic film
• The Lighthouse, a fantasy horror
• Parasite, a Tragic comedy
• Rocketman, a biopic on 70s rockstar
• Atlantics, based on a documentary headed by a black female director, Mati Diop.
Cannes Film festival has always witnessed the success of movies screened at the festival. This year too filmmakers are hoping the same. The films presented at Cannes get global recognition and promotes the film industry on a large scale. Check out this one
https://glammpop.com/trending-looks-from-londons-fashion-week/