Top 15 Henna designs-easy and beautiful patterns in trend
Mehendi, also known as henna throughout the world, is a paste that is often associated with good luck and positivity. It is one of the oldest forms of body art that humans have originated. Women and girls wear different henna designs on their hands and feet on happy occasions. Be it weddings or festivals like Diwali, bhai dooj, teej or Eid, Mehendi is a much loved way to enjoy the festive feelings for most girls. While some women swoon over its aromatic fragrance, others love their hands decorated with beautiful and intricate henna designs. But now, as time goes by, it is more common for men to apply henna as well.
About Henna
Mehendi paste is derived from the powder of dried henna leaves to decorate a person's body. The leaves are dried in the sun and then ground to a fine green powder. Then mix it with a suitable amount of water, lemon juice and a few drops of eucalyptus oil to get a smooth paste. The dough is soaked overnight to infuse all the ingredients and then poured into a plastic cone for application. Also, the word "Mehendi" is originally derived from the Sanskrit word "Mendhika" which denotes the henna plant itself.
Importance of Henna
As mentioned above, women often decorate their hands and feet with beautiful henna designs. But now, not only men, but even cancer patients losing hair growth, are also making the most of this natural bald scalp care paste. Mehendi paste is green in color, but the standard color it leaves on the skin is brown. However, with the advancements in henna designs and techniques, colors like white and gold are also being used.
Interestingly, henna also known as mehendi has great significance in most religions. For Hindus, it is of prime importance in many traditions and is also an essential part of the 16 ornaments (Solah Shringar). Prophet Muhammad is also known to use Mehndi paste to dye his grey beard and advocate the use of henna for others as well, according to what is mentioned in the Holy Quran.
15 simple henna designs for weddings

Mehndi is an indispensable part of Indian weddings. Called an auspicious mehndi ceremony for Indian brides, this ceremony takes place the night before the wedding as a way to wish the bride good health and prosperity as she embarks on a new journey of marriage for life. From the bride to all the girls and married women, they all haden hands with wedding mehendi. It is also important that brides receive mehendi. So, here are some of the simplest wedding henna designs that you must see.
Multi-patterned and elegant
This is one of the elegant henna designs is perfect for brides who want to strike a balance between tradition and modernity. There is leaves, floral patterns, jaalidar designs and also an attractive play of bold and light strokes. The prominent empty space add to the contemprariness of this henna design.
Sheer elegance
Concentric circles brought to life by dotted highlights are soothing to the eyes. In addition, the matching belt patterns are made on the fingers with precision. However, the bracelet part is another feature of this lovely henna designs.
Glamorous flowers
Beautiful floral bootis with delicacy make a great mehndi design for the wedding party
Minimumalist
A mehndi ceremony is an essential and unmissable part of every bride's look. Given its religious importance, this imperative tradition cannot be lost. However, if you are not satisfied with these fragrant decorations and decorative henna designs that are not your thing, then this simple design is what you need. This simple henna design is the epitome of elegance and sophistication.
A Trailed pattern
While it is common to have mehndi paths upside down, this is one of the rare simple henna designs with a well detailed Arabic path on the front hand. Sounds great right?
Also read-Top 50 Most Beautiful Women In The World
Let the mandala speak it all!
The mandala is a spiritual and ritual symbol that represents the universe. It is considered auspicious for brides to include a mandala in my henna designs. However, for the bride who does not want her hands to be completely covered with mehndi but she has to follow the mehndi ceremony for traditional purposes, this simple mehndi design is a perfect reference.
Peacocks and hearts
Bold designs are simple but they also serve to fill the space. This simple mehndi design with easy strokes, peacock and heart details is one of them.
The Raja Rani Love!
Simple henna designs with a half covered king ornament in the center in the middle of a circular frame. The maze-like with floral-booti reflections on the fingers stop Intricate but easy to draw. The bare skin makes this design look very suitable for modern brides. On the other hand, the same design can be duplicated with the queen shape.
One with petite strokes
We can't help but admire this artistic wedding henna design. The way they are designed on the outer sides of the foot is very charming.
Also read-Check out the best beach looks for you!
Traditional feels
The Sindoor moment is one of the most heartwarming and moving moments for Hindu couples. It is one of the most sacred moments when the groom fills his bride`s maang with a sindoor. These rituals can also be incorporated into the mehndi design.
Several unique elements
These henna designs differs for many reasons! It has a Warli board consisting of tribal caricatures and unique elements such as swings, earthenpots, birds, lotus motifs, and dot patterns.
Depiction of a love story
It is a trend among modern brides to portray the journey of love in wedding mehndi. These attractive henna designs with clear symmetry are one of them. This special design not only gripping but also hipnotizing. The beloved pair, save the date, the wedding date, the symmetrical pattern, and the artwork on the palms are items definitely worth smashing.
Also read-How to lose weight in 2 weeks – tips to follow
Checkered composition paired with motifs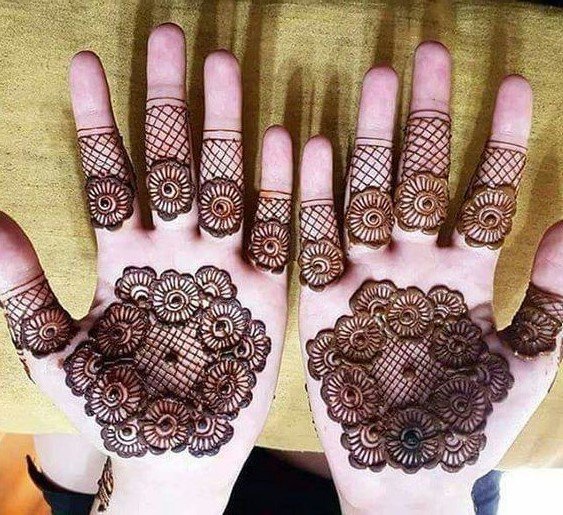 Important motifs in the middle of an checkered pattern make simple henna designs great. While one hand has a floral figure surrounded by an patterned frame, while the other hand has a flying dove.
A Conventional design
The USP of this design lies in its simplicity and small blanks. Composed with the more traditional mehndi patterns like paisley, mandala, leaves, and pearl drops, these simple henna designs are simply beautiful.
The Jhumki design
This is a beautiful, different and simple mehndi design with jhumkis and floral patterns! The interest spaces and silhouettes enhance the beauty quotient of this design.
Also read-Benefits of Rice Water for hair health-Easy home remedy